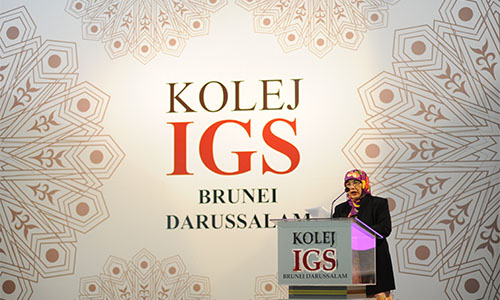 Assalamualaikum Warahmatullahi Wabarakatuh
His Majesty The Sultan and Yang DiPertuan Negara Brunei Darussalam has emphasized on the importance of collaboration between the public and private sector in Brunei Darussalam. I must emphasise that both parties have much to share and the most vital goals in common is to make sure that everyone has an equal opportunity for education and development.
Our years of experience in education has enriched our aptitude for identifying possibilities beyond basic academic aspects alone. Our approach has evolved to include more talent and creative development. The opportunities for an individual trained this way will grow, having unleashed all potentials for application to the traditional and emerging creative industries.
The creative industry is underdeveloped in Brunei, and we are here to open up eyes and expose students to these new and exciting opportunities. Our collaboration with two Malaysian Universities, Limkokwing University of Creative Technology and University Sabah Malaysia, aims to spearhead this change. It does not stop here, incubation programs are now being designed to equip the young people not only with industry skills but more importantly, the experience of running their own businesses in the creative industry. We support his Majesty's Government in implementing an entrepreneurial touch to our teaching. It is our desire to inculcate dynamic business mindsets to our young generations. Stepping out from our comfort zones is not an easy task. But know this, we all need a change of perspective.
To stay strong in this uphill journey, the vision is to stay industry-relevant and globally connected. Our promise is to continue searching for new opportunities to cater for the needs of the nation particularly in diversifying the skills of Bruneians to prevent economic, cultural, and information stagnation. As one of the Private Higher Tertiary Educational Institution, Kolej IGS plays a very important role. We exist to balance out and revitalise Brunei Darussalam's socio-academic environment.
Our appreciation is extended to the Government of His Majesty The Sultan and Yang Dipertuan of Negara Brunei Darussalam, in particular the Ministry of Education, LimKokWing University of Creative Technology and University of Sabah Malaysia for their continuous support. On behalf of the Board of Directors and staff of Kolej IGS, we thank you for choosing us to continue your academic journey and wish you all the best.
Best wishes,
PG (DR.) HJH FATIMAH BINTI PSJ PG HJ ABD MOMIN